THE URBEM CUSTODY CHAIN RECEIVES FSC® CERTIFICATION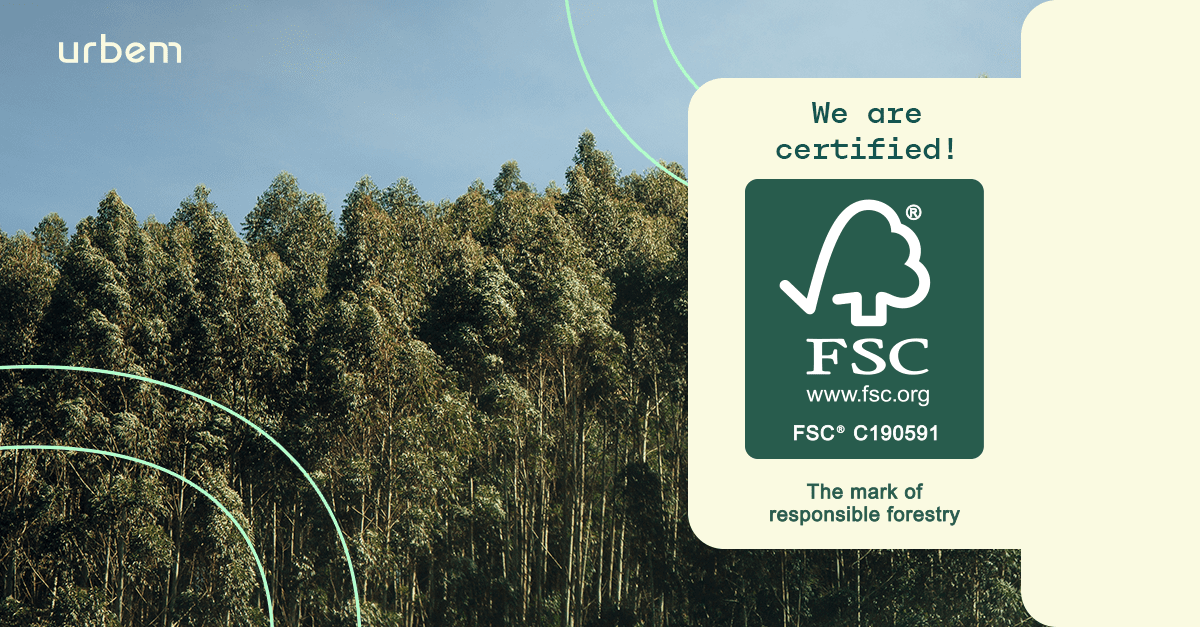 Sustainability and social responsibility have always been at the core of Urbem's values, and today we have the assurance that these values are not just on paper, but integral to our entire mass timber production process.
This chain of custody certification is granted by FSC® (Forest Stewardship Council®), a global nonprofit organization that promotes environmentally appropriate, socially beneficial, and economically viable forest management, ensuring traceability from raw material production to the final consumer.
But what drove Urbem to invest time and resources in this certification process? According to Vanessa Pereira, our Legal and Sustainability Manager, "[…] The FSC certification ensures that the social, environmental, and economic tripod is being considered. So, because Urbem values these aspects and wants to convey them to its product, we believe it was essential to certify that our final product had this guarantee of origin." Despite being a necessary process for Urbem, this was challenging, involving "The challenge of developing controls based on processes that were still being implemented […] But since Urbem is a very concerned company, engaged with a strong sense of teamwork, with collaboration from others and everyone committed to this purpose, we managed to overcome this challenge."
To achieve this goal, several steps were necessary, as explained by the attorney in our interview, including: hiring a consultant specialized in this type of certification and undergoing a diagnosis by the institution. Early on, the consultant had a positive surprise, noting that we already had the concerns of certified companies embedded in our DNA.
After this optimistic feedback, we developed a timeline, and the consultant began making monthly visits to engage with various departments, particularly HR (due to the focus on social aspects and employee relationships) and the departments involved with raw materials, to ensure that the custody chain remains unbroken at all times. In June, we underwent an external audit visit and achieved our FSC® C190591 certification.
This effort ensured that all our products had their production certified with FSC Mixed 70%, from our main products like Cross Laminated Timber (CLT), Glued Laminated Timber (GLULAM), and Urbem Class S4S (pine dimensional lumber), to those sold on a smaller scale (such as our Simulated Lamellae, Sawed Timber, and Wood Shavings).
All of this was aimed at ensuring that they comply with the series of requirements evaluated by the three pillars of the FSC® organization: social, environmental, and economic. In other words, beyond employing proper techniques, they conserve biodiversity and ecological processes, minimize waste, have positive impacts on their surroundings, and adhere to Essential Labor Requirements. According to Vanessa Pereira, the greatest sentiment that emerged from this process was satisfaction, stemming from the challenges overcome and the achievement of this vital certification for Urbem.
Innovation happens sustainably, and now we have the proof! Come build the cities of the future with us.