Mass Timber Conference 2023 – the largest Mass Timber gathering in the world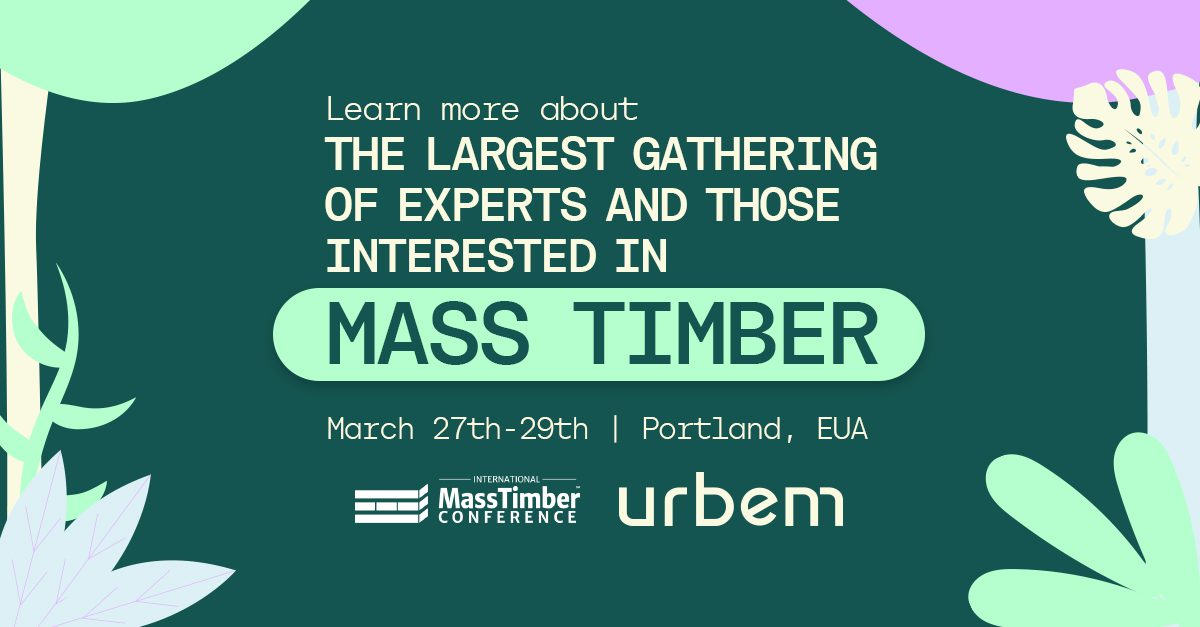 The Mass Timber Conference, which had its first event in 2016, is now the world's largest gathering of experts and stakeholders in mass timber, with a focus on manufacturing and construction. The conference brings together the leading industries and suppliers from around the world, with the aim of exchanging experiences and learnings to advance the development of this technology in various countries. The event takes place once a year, always with a robust agenda and lectures led by world-renowned experts in the field.
For this year, architect Michael Green, a reference in timber constructions, recognized with more than forty international awards for design excellence, will be the keynote speaker at the event, which takes place from March 27 to 29 in Portland, United States.
Urbem will once again be one of the participating companies and will have a booth where it will present the company and talk about the evolution of the technology in Brazil. In total, there will be more than 140 exhibitors from 39 different countries and over 2600 participants, ready to exchange experiences and seek ways to collaborate to expand the adoption of this construction system in the global construction industry.
Michael Green will give his presentation on the morning of the 29th, recounting his inspiring journey as an architect and discussing the next steps in timber constructions. The architect has completed some of the world's most significant timber buildings and has been recognized with more than forty international awards for design excellence, including the Firm of the Year from the Royal Architectural Institute of Canada, the Best North American Company Award from Architizer in 2021 and 2022, four Governor General's Medals, two RAIC Innovation Awards, and the American Institute of Architects Innovation Award.
The event program will also feature the presence of Anyeley Hallová, a real estate developer with over 19 years of experience ranging from sustainable mixed-use residential developments to nonprofit office headquarters, including those made of mass timber.
For the organizers of the International Mass Timber Conference, the increased use of mass timber is an innovative, disruptive, modern and sustainable choice, necessary for construction in a rapidly growing world. To check out the full event agenda, visit masstimberconference.com/agenda/.
We are excited to meet and learn from the industry's top players. See you there!